LAERM#02
Lauter Lärm & Dry Lungs Records presents AL3AToRy R1tU4L5
SOLYPSIS (USA) - rhythmic noise
PSYCHICEYECLIX (UK) - circuit bending / glitch / hallucinogenic
FALL INTO DRY LUNGS (AUT) - harshnoise duo
DROWN (AUT) - instrumental experiments
WE OWN THE NITE (AUT) - light visions
---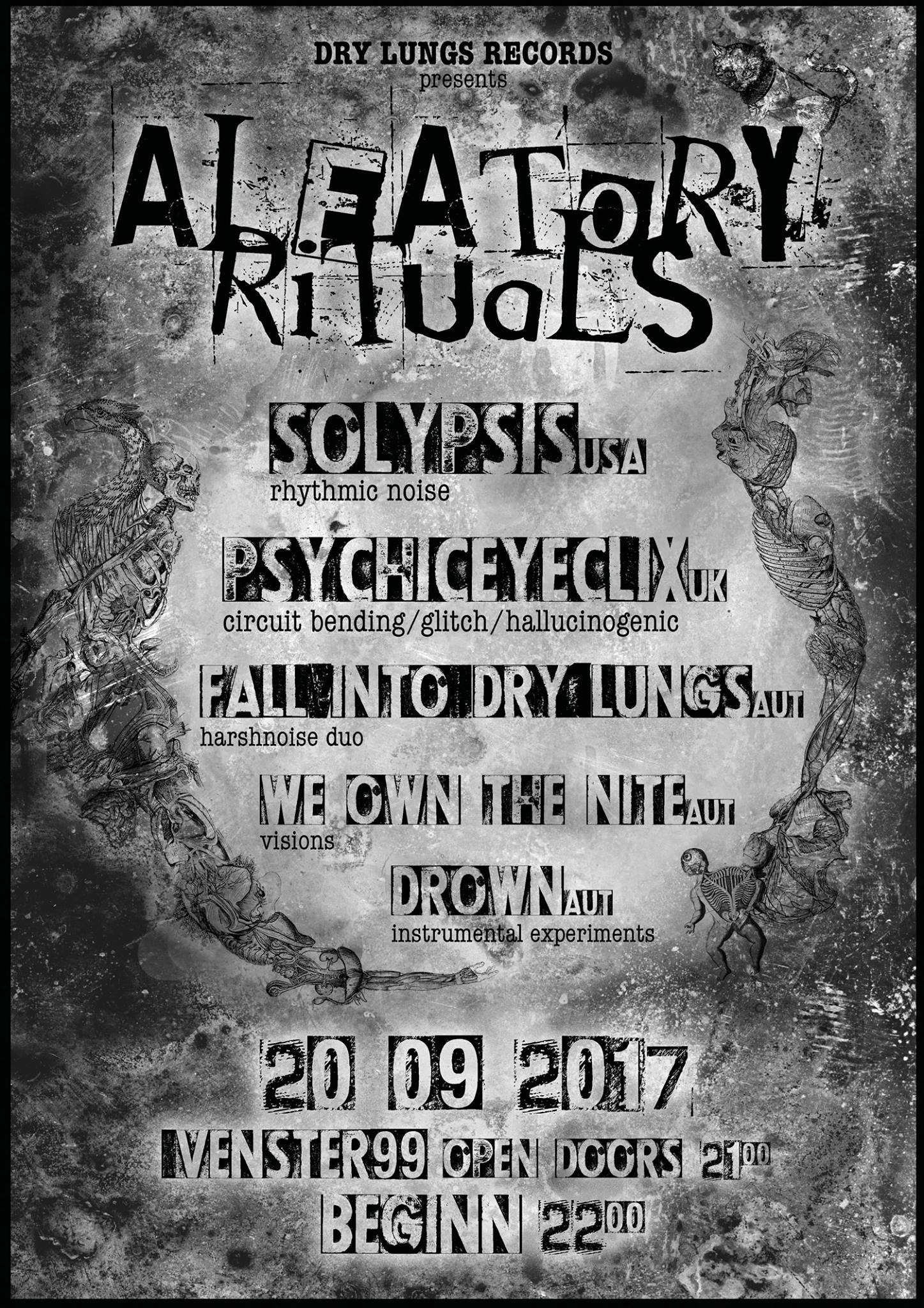 SOLYPSIS
Denver based Solypsis tripped out rythmic noise inhabits a harsh world specialising in speaker shredding frequencies and wasted non dancefloor smashes. Produced over 2000 tracks & appeared on labels inc : component recordings, dry lungs records, hirntrust grind media, v/vm test records, daly city records, hyman records.
https://solypsis.bandcamp.com/
---
PSYCHICEYECLIX
Plays with different equipment each performance - circuit bent/rewired games consoles/drum machines/synths, camcorders pointed at the audience glitched up. All his equipment is recycled. By rewiring old redundant equipment he circuit bends them into new and more exciting instruments. His live performance invokes entropy with visuals & audio that are continuously mutating and interacting.
https://psychiceyeclix.wordpress.com/
---
FALL INTO DRY LUNGS
FALL INTO DRY LUNGS is the collaborative project of Christoph F. (Dry Lungs Records / Feuersalamander auf Marzipan) and Petar S. (Fall Into Void Recs / Bruising Pattern). Since its inception in early 2015 they have made a name for themselves for their high-energy pedal abusing live performances. Playing either as a noise&drums duo or delivering a cut-up battle style harsh noise set, whatever fits the venue, event & moment best! Their first release entitled "Occult Sacrifice" has been put out by Spain's Craneal Fracture Records and is soon to be followed by a double-cassette tape set amongst many other things!
https://www.youtube.com/watch?v=W34tQRzbYIg
---
WEOWNTHENITE
https://www.youtube.com/user/kilmou5/videos
---
no_racists__no_nationalists__no_other_kind_of_assholes
---